Queens Birthday is the last long weekend for a while and the weather probably played ball for most other people it was not productive for duck hunting with clear skies and zero wind.
House Work
It did help in getting some work done around the house, including repairing the perimeter fencing that we had installed to allow the dogs to roam safely at the rear of the house but they had found a way to rip down the plastic mesh that was in the gaps that Rain is small enough to get through. I got some stronger wire netting and used that to cover the two slots where Rain and get through and made the connector to the panels stronger on the poles so Ace cannot break it again.
I must say I am happy with how it looks and only time will tell if it'll keep the dogs on the correct side of the fence.
Beer Brewing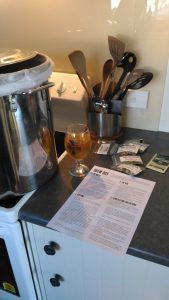 Thanks to Beer Necessities I put down another brew, this time an NZ IPA using their BIAB recipe. It came with very good instructions on the process which for me was helpful as this being my second real go at BIAB. Included as well was a brief history of the beer which was nice.
I did not quite hit the end volume of 23 litres with it coming out with 18L in the fermenter but that did leave a couple of litres in the pot so not too much sludge ended up in the bottom. I am pretty happy with the Original Gravity (OG) coming in at 1.050 it, on the lower side but within the range given by BJCP style guides.
As I do more of these brews I am sure I will get process right and know how much water I will lose during the boil. One thing I will need to add is a larger measuring cup as using the 1L glass jug is not really ideal when trying to measure the water out.
Christchurch Friends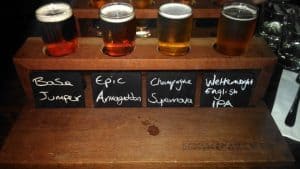 Had some friends come up from Christchurch for the night, which was lovely. We went out to The Fork and Brewer for dinner. The beer choice was amazing with 40 beer taps available and able to do tastings which were a nice touch for a restaurant.
Some of the food was a little disappointing but the rest was nice, Jennas' pizza was quite plain and burnt which was a letdown.
They brought some very nice gifts for the baby which was very much appreciated and will look very cute for bubs.
Boggy Pond Hunt
Even though the weather was forecast for calm and clear Justin and I headed over to Boggy Pond to try our luck.
There were a few birds flying but none were overly interested in us they wanted the middle of the lake more. It is always nice to get out and about, we could have shot some swan but that does not interest me anymore as I do not like to eat them or carry them out. Had a nice flight come in and land in front of us.
It was also a good opportunity to have Ace inside the hide with us and get him use to it more, also done some bumper training with him with some duck wings taped to it.
He did pretty well and getting him to bring it back to me is improving, he started to want to play with it a bit at the end so stopped to hopefully not get him into that habit. I have included a short video I have edited together of him doing his thing.
Hopefully next time he will have real ducks to retrieve.
Until Next Time
Parriehunter