Nugget Point lighthouse stands near the south-east corner of the South Island, near the mouth of the Clutha River. Many small islets and reefs lie close to Nugget Point.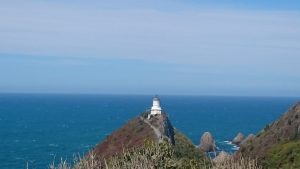 Technical details
Location: latitude 46°27′ south, longitude 169°49′ east
Elevation: 76 metres above sea level
Construction: stone tower
Tower height: 9 metres
Light configuration: LED flashing beacon
Light flash character: white light flashing once every 12 seconds
Power source: mains electricity
Range: 10 nautical miles (18 kilometres)
Date light first lit: 1870
Automated: 1989
Demanned: 1989
History of Nugget Point Lighthouse
Nugget Point had over the years been considered a dangerous locality for ships. Most shipping casualties were small vessels travelling to the Clutha River.
Operation of the Nugget Point light
The light began operating in July 1870. It was originally powered by oil illumination. In 1949 the light was converted to diesel-generated electric power, and then later connected to mains electricity.
Nugget Point lighthouse was automated and the last keeper was withdrawn in 1989.
In May 2006, the original light was replaced with a LED beacon mounted externally. The new beacon is powered by mains electricity backed up by battery power, in the event of a mains failure. The original lens in still in place today.
The light is monitored remotely from Maritime New Zealand's Wellington office.
Life at Nugget Point light station
Life at "The Nuggets", as it was known, was a challenge. The region is renowned for its cold weather.
Although the station was connected to the mains power supply, electricity was not supposed to be used for heating. One keeper was turned down twice when he requested electric heaters for his house. This was despite the neighbouring station, Cape Saunders, receiving seven heaters. After a series of letters and much debate, the issue was finally resolved, at the end of winter.
The Nugget Point light station was only 11 kilometres from the town at Kaka Point. Keepers and their families could take part in the local community and the lighthouse keeper's children could attend the local school.
Access to the station was by a track marked with a sign saying "road not recommended". After a difficult journey to get to the station, the keepers were not always happy with what they found.
During the 1960s, one keeper wrote "Nugget Point, in fact, was a mess and in particular our house was a shambles. The furniture had not been replaced since 1868, when it had been first supplied to the station. The roof was dilapidated and stained the water pink [drinking water was caught from the roof in tanks], the septic tank was broken and the house leaked."
Nugget Point originally had three keepers; however, by the time the light was automated this had been reduced to one keeper and his family.
Access to Nugget Point Lighthouse
The Nugget Point Lighthouse is accessible to the public. It can be reached on foot from the nearby road-end. There is no public access to enter the lighthouse.1