After seeing @edaggs Crosman 2250b build on Instagram, I have decided to do something similar with my 2250. This is how I set up the bulk fill on the Crosman 2250b. I am not going to go straight to HPA (cost prohibiting at the moment to get a tank and pump). But even just going away from the CO2 Powerlet to a 12 oz tank will be great. He was able to get between 12 and 14 FPE using CO2 and almost 18 FPE off HPA with other modifications.
Parts Needed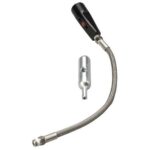 The first thing to find was a BT SA-17 Bottom Line Kit as used above. I was able to find one in the States from ANS Gear, they do ship equipment to New Zealand as well. But I decided to try to use YouShop as I thought it may have been cheaper. Note that the ANS link is dead but also available from Amazon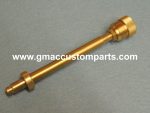 There are other options available to remove the Powerlet like this one from GMAC. Which has the advantage of being able to easily remove and use a Powerlet if required. But the connection is out the front which I think looks messy and takes away from the compactness of the 2250b. With the SA-17 kit, it can also work with HPA so a bit of future-proofing is involved for when I decide to go down that route.
I had emailed the YouShop before buying it to check that it would be OK to ship through them. They came back saying it would be fine as long as it did not have any liquid or compressed gas. Upon arrival at YouShop in the States, they labelled it as prohibited. After many emails and a couple of weeks was finally able to get them to release it. The shipping came out as more than if I had gotten ANS Gear to ship it out. I have learnt not to use them ever again. Thankfully Customs released the package after a couple of days, I was starting to wonder if this was ever going to arrive.
I had previously acquired a CO2 paintball tank for pretty cheap. The next little hurdle was trying to find somewhere in Wellington to fill. I found a place in Porirua but getting there is problematic. Found that Guncity Wellington is able to fill them for only $7 a tank. I wish they would show this service on their website.
Some quick maths puts it at about 700 shots per tank. At a cost of $0.01 per shot compared to $0.08 per shot in a Powerlet.
How to Install
Fitting the kit involves drilling a hole in the main tube where the hole is in the Powerlet eliminator. I measured this as being 85 mm from the end of the tube. When drilling this hole I was about a millimetre off, but nothing a quick grind with a stone sorted out.
Measuring the hole to go in the fore-end was relatively easy. Just needed to measure the distance from the screw holes on the tube to the centre of the dummy Powerlet. Translating that to the fore-end. Again I was a few millimetres off but some quick work with the drill got it all good.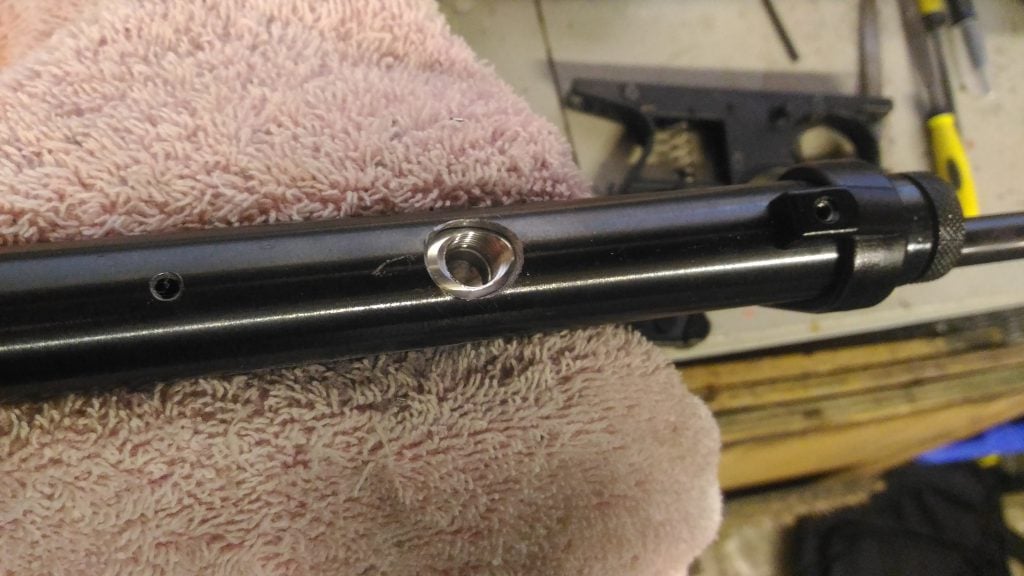 The Finished Product
The trickiest part of the conversion has been that the ASA adapter cannot sit flush on the bottom of the stock and have the CO2 tank fit. To get around this I have used a wedge of wood, cleaned it up to fit the stock and adapter and painted it black. It may not look as flashy as an alloy block but it does the job. A good fella off the NZ Air Gunners Facebook group is sending a block that I should be able to use. I am happy with how it has come up.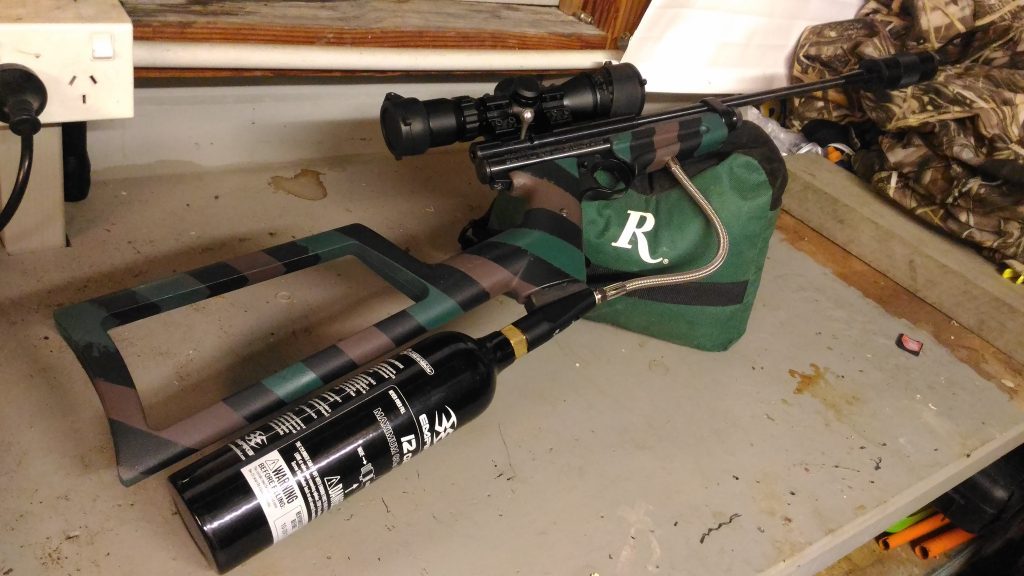 Coming up next, testing some pellets to see what this gun likes the best.