With the problems, I was having with my custom 10/22 using the Gun City Ranger 10/22 barrel. I decided to sell that barrel when I saw these Grey Birch Solutions barrels come for sale from 55Six. (Note that 55Six has since closed down and this barrel is no longer available locally in New Zealand)

The Grey Birch Solutions barrel in 12.5 inches is the perfect length to just fit inside the Magpul Hunter X-22 stock. With a DPT rimfire suppressor on the end, it looks great. Of course, the thread was different between the Ranger and Grey Birch so I had to get another one.
I changed out the scope as the FFP reticle was quite hard to see at lower magnifications. From reading about FFP scopes I knew this could have been an issue. Also, I wasn't using the dialling features at all. So I decided to go with a more simple 3-9x40mm scope.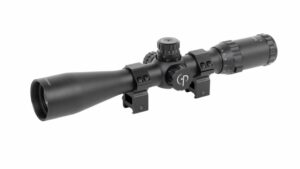 Some requirements that I had for the new scope. It had to use either a Mil-Dot or MOA reticle, have parallax adjustment on the side and easy-to-adjust turrets. After a lot of discussion with my good mate Matt I ended up going for the Crosman Center Point 3-9x40mm PLT.
This scope has everything I wanted on my wish list. This scope has an MOA reticle while I would have preferred Mil-Dot, MOA should work OK. Matt is a big fan of 30mm scope tubes so I thought I would give it a go. He also has one of these scopes mounted on his .22 WMR.
the custom 10/22 at the range
It was time to head to the range with some ammo to get the custom 10/22 zeroed in and see how well I can get it to perform. Hopefully, the Eley Subsonic Hollow Point shots well in this barrel as I had brought a couple of slabs. I do have some other ammunition from my previous tests to try out in this new barrel.
I have done a quick sighting in and it shoots with MOB (minute of bunny) but I do want to get to a range and really test it out.
Parriehunter