Cape Egmont Lighthouse is located on the southern Taranaki coast about 50 kilometres south-west of New Plymouth. Originally erected on Mana Island, it was moved to Cape Egmont in 1877.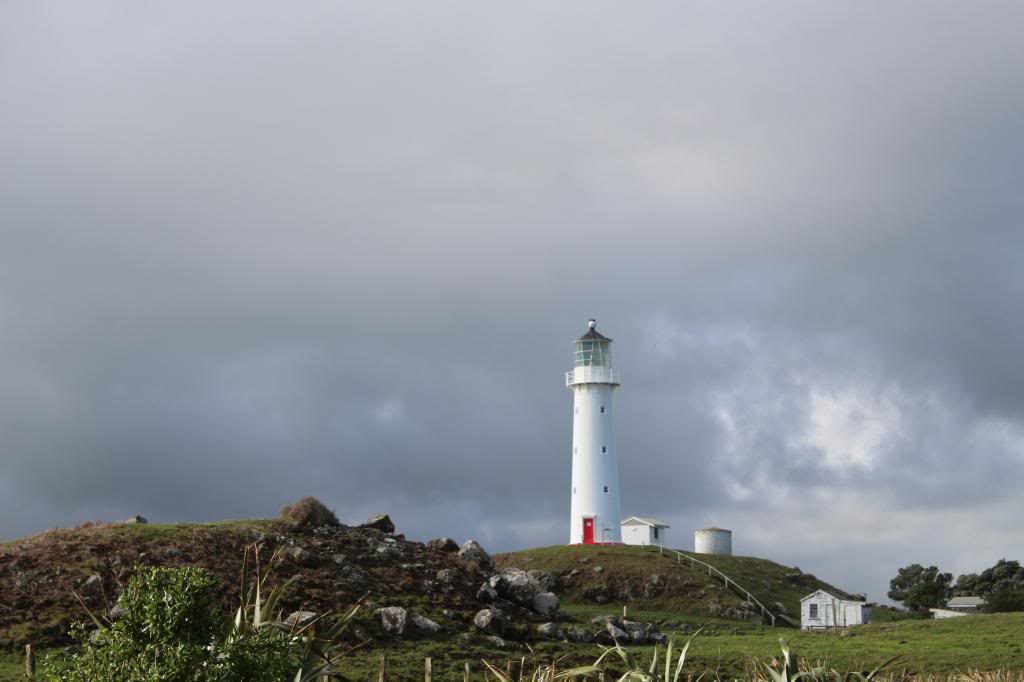 Technical details
Location: Latitude 39º17′ South, Longitude 173º45′ East
Elevation: 33 metres above sea level
Construction: Cast Iron Tower
Tower height: 20 metres
Light configuration: 50 watt rotating beacon
Light flash character: White light flashing once every 8 seconds
Power source: Mains Electricity
Range: 19 nautical miles (35 kilometres)
Date light first lit: 1881
Automated: 1986
De-manned: 1986
History of Cape Egmont Lighthouse
The Cape Egmont Lighthouse was first erected in 1865 on Mana Island, near Cook Strait. The Mana Island light was often confused with the Pencarrow light, so it was dismantled and taken to Cape Egmont in 1877.
The light shone at Cape Egmont for the first time in August 1881. For the first 6 months an armed constabulary was stationed on the first floor of the lighthouse because of the Taranaki land wars.
After the light was electrified in 1951 the keeper was transferred to another station. It had been intended that a keeper would remain on the station to maintain the property and provide weather reports; however, they were transferred due to staff shortages.
On 14 July 1956, the vessel Calm grounded off the cape during a gale. As a result of an inquiry, a permanent keeper was placed back on the station. Keepers then remained at Cape Egmont Lighthouse until the light was automated in 1986.
Operation of the Cape Egmont light
In 1951 the lighthouse was electrified by power from diesel generators. It was connected to mains electricity at a later date.
The original light was replaced in August 1999 with a modern rotating beacon, illuminated by a 50 watt tungsten halogen bulb. The new light is powered by mains electricity and backed up by battery in the event of power failure.
The light is monitored remotely from Maritime New Zealand's Wellington office.
Life at Cape Egmont light station
In the early months of the lighthouse at Cape Egmont the keepers were more concerned about the armed constabulary stationed in the tower than any local troubles.
The letter books are full of complaints to the Secretary of Marine regarding the armed guests. After several letters of complaint the Secretary wrote back: "It is considered necessary for the men to occupy the ground floor of the lighthouse for the present and I trust you will exert yourself to get on amicably with the force and not let me have further complaints of that trivial nature of those now made by you."
The lighthouse service was based on a strict hierarchy to avoid disputes, although not always with total success. Over the years several of the keepers on the station were either dismissed or fined for refusing to take orders from their superior keeper.
All the tasks to be carried out by keepers (and their wives) were clearly stated in the handbook. 1