The Castle Point lighthouse is situated on the Wairarapa Coast, about 70 kilometres east of Masterton. Close to the Castle Point Township, it was known as the "holiday light".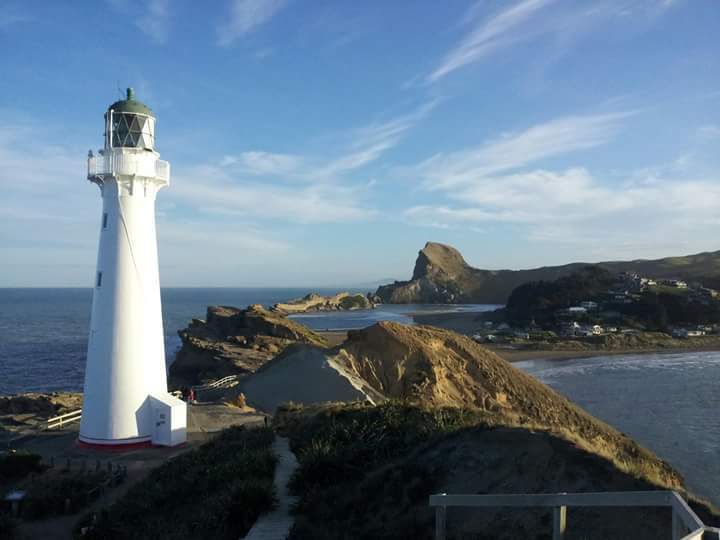 Technical details
Location: Latitude 40º54′ South, Longitude 176º14′ East
Elevation: 52 metres above sea level
Construction: Cast Iron Tower
Tower height: 23 metres
Light configuration: 2nd order Fresnel lens, illuminated by a 1000 watt incandescent bulb
Light flash character: White light flashing 3 times every 30 seconds
Power source: Mains Electricity
Range: 26 nautical miles (48 kilometres)
Date light first lit: 1913
Automated: 1988
De-manned: 1988
History of Castle Point Lighthouse
Built upon a prominent cliff, Captain Cook observed that Castle Point looked like an old medieval stronghold.
The Castle Point light was one of the last manned lights to be established in New Zealand. The cast iron tower was manufactured at Luke's foundry in Wellington.
Operation of the Castle Point light
The light was originally illuminated by an incandescent oil burning lamp. This was changed to diesel-generated electricity in 1954. In 1961 the light was connected to mains electricity.
In 1988 the light station was automated and the last keeper was withdrawn.
Castle Point lighthouse is one of only two lighthouses in New Zealand that are still fitted with the original lens.
The light is monitored remotely from Maritime New Zealand's Wellington office.
Life at Castle Point light station
Castle Point was described as one of the most popular lights for keepers in an early marine department brochure.
In 1913, when the lighthouse was first lit, the Castle Point township had already been established. Life at this lighthouse was different from any other in the country. It became known as the holiday light.
The keepers had easy access to shops and a school in the nearby settlement of Castle Point. On weekends the settlement would be inundated with visitors taking advantage of the beach. Visiting family and friends could stay at a local hotel.
Many of the keepers were happy to oblige any visitors to the lighthouse, although there were some keepers who longed for the solitude of a more remote posting at an island light station.
Castle Point was originally a three-keeper station and then reduced to two. By the mid-1970s just one keeper and his family remained.
An unfortunate accident occurred in 1922. The principal keeper fell from the 23 metre-high tower while fixing the telephone wire at the base of the lighthouse. His body was found by a visitor touring the lighthouse.1