Over a month ago I was invited out to try a game of airsoft by my mate Ohraz. Airsoft has always looked cool, but I have been a bit nervous about trying it with the stigma that can be associated with it. It was such a great time and the people were awesome.
Canterbury Softair Group
The field that he is a member of is Canterbury Softair Group. I would highly recommend getting out with them for a game. The best way of contacting them is through their Facebook Group CSG Canterbury Softair Group. They play airsoft in the forests at McLeans Island in Selwyn, Canterbury.
Gameday
Ohraz had a spare airsoft replica for me to use but when we got to chrono it was shooting too hot and had some other random misfires. On the chronograph, it was shooting about 350 fps on 0.25g BBs. The field limit is 250 fps on 0.20g BBs which is about 1.13 Joules. This gun was doing over 1.4 Joules. I ended up using one of the club rentals for the day, which seemed to hold its own.
Game Play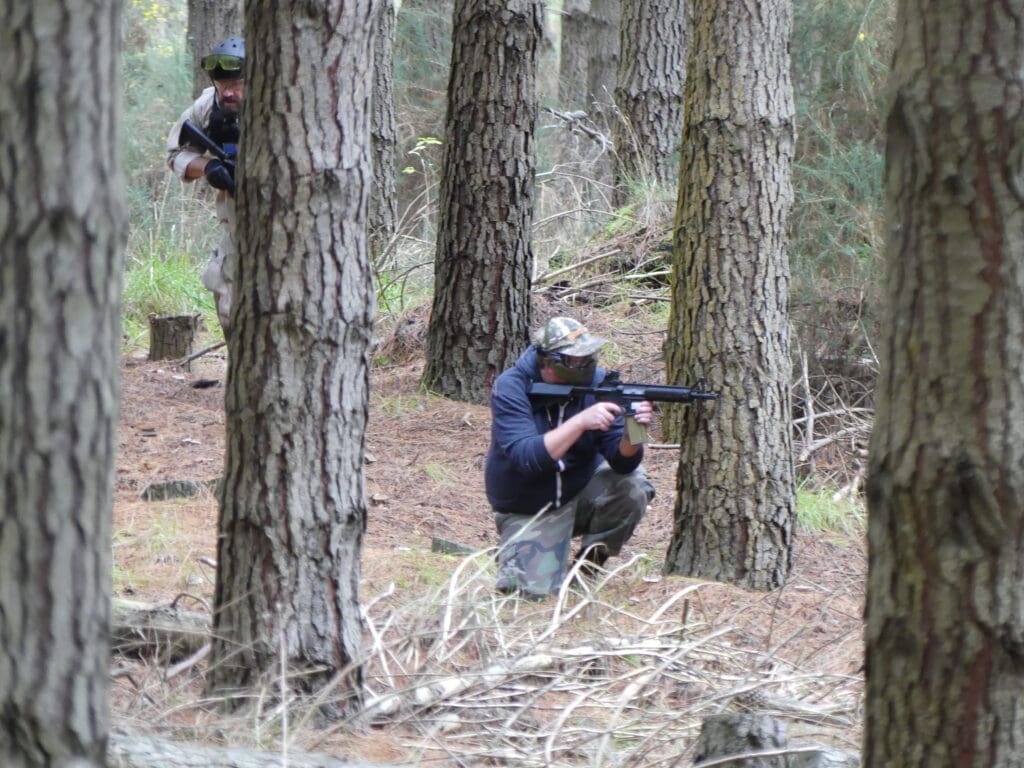 I had a great time out, the day was a few games which was attacking some static defense and switching sides up there. The last game we played was a rolling defense where we had to push the defenders back to certain cones that were 150m apart.
This was an interesting game because Ohraz and I were certain that once a teammate had touched the cone that became that respawn for the team. But another team member thought he had to each player had to touch the cone.
We were very slowly pushing up, Ohraz and I came to the road we had to cross, and on the other side was a fallen tree. This tree was providing cover to the defenders but as we pushed up some of our teammates were able to flank them. This gave us the chance to use this cover. At about this point, Ohraz was struggling with a tension headache so he had to pull out. Knowing that we were about to be done for the day I pushed forward. Doing this I caught one guy out in the open and shot him. Then saw movement in a bush about 30 meters ahead and sprayed it. Ending up hitting two guys that were there. After that I got taken out by a sniper in a Guille suit. That topped off a great day.
What did I learn
Firstly I am terribly unfit, that day of running and squats was intense I need to work on my fitness.
Good eye protection is a must. Because I wear prescription lenses and contact lenses do not work for me my eye protection needs to be able to fit over these.
I picked up a pair of Bolle safety goggles from a local work safety shop. This fit and felt OK, but they didn't offer nearly enough ventilation. They didn't fog but became a river of water inside which made it different to see very far ahead. I have picked up a pair of FMA goggles which come with a fan to move the air around. I did have to cut some slots into the sides so my glasses will fit.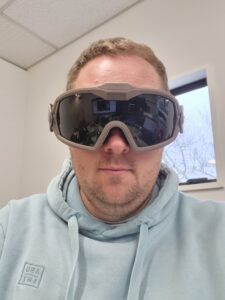 Where to now
I ended up buying off that replica M4 that was shooting too hot off Ohraz for a pretty reasonable price. What I found out was that the person who owned it previously had fallen on it so the buffer was bent and slipped on the castle nut. I ended up having to cut the castle nut off and the buffer tube as it was really jammed in there.

The airsoft replica that I picked up is a Magpul branded G&P M4, and being a Magpul fanboy that is all right by me.
It does require more work to get it running right. It had been sitting for about 3 years and the grease inside was really hard so I have already opened it up to change that and give the gears a shim as it was all very tight. I found the air seal wasn't very good and the cutoff lever isn't always working with the motor spinning too fast. We have a plan to get it working perfectly.
Once I have the gun all sorted we will have to go and play some more games and hopefully join the club soon. Once they have vetted me.
Thanks for reading
Parriehunter