The site of New Zealand's first lighthouse Pencarrow Head marks the eastern entrance to Wellington Harbour.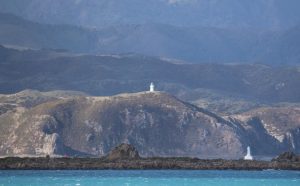 Technical details
Location: Latitude 41º21′ South, Longitude 174º50′ East
Elevation: 18 metres above sea level
Construction: Cast Iron Tower
Tower height: 17 metres
Light configuration: Unknown
Light flash character: Flashes 3 times, white and red sectors every 12 seconds
Power source: Mains Electricity
Range: 12 Nautical Miles
Date light first lit: 1859
Automated: 1960
History of Pencarrow Lighthouse
Initially in 1841, two wooden markers were built in but these blew away. A make shift beacon was then built and was tended by George Bennett and his wife Mary.
In June 1858 the iron tower arrived from England and was landed on Pencarrow beach then assembled on the cliffs above. Unfortunately by the time it was built George Bennett had drowned in a boating accident (1855) so his wife Mary became New Zealand's first official lighthouse keeper. George White Bennett died June 9, 1855. Buried St Paul's Church, Molesworth Street, Thornton, Wellington.
The light was first lit 1 January 1859.
The first assistant keeper was William Lyall, with his wife Lucy. The Lyalls' came to New Zealand aboard the Mariner in 1849. Lyall moved in the 1860's to Matiu-Some Island lighthouse. He died on October 11, 1871. Stepson Robert Buckeridge took over as keeper until his death, September 10, 1874.
William Hendle was transferred to Pencarrow in 1872 from Cape Campbell. He was to tragically lose his wife in April, 1875 when she slipped on the tower stairs and fell to her death. Hendle returned to Cape Campbell in 1878. He died of a heart attack in the lamp house on 30 March, 1881 at the age of 50. His body was transported back to Wellington for burial aboard the lighthouse tender Stella.
The light was often shrouded by low fog so a new tower was constructed on the beach in 1906. Originally the tower was a open steel frame but it was in-cased in concrete and increased in height in the 1930's.
Both lights burned together for 30 years until Bearing Head lighthouse was built and lit on June 18, 1935. Baring Head was the second to last manned lighthouse to be built in New Zealand. It replaced the original Pencarrow lighthouse which was extinguished the same day.[1]