With the very little use that my Norinco JW-15 and Crosman 2250b were getting. I decided to sell them both to fund a new Ruger 10/22 project.
My dad owns one and I think every firearms user should own a 10/22. Even if it is just for plinking. Sure there are more accurate out-of-the-box semi-auto options, like a Marlin Model 795. But in terms of customizability, you cannot go past a Ruger 10/22 making it ideal for a project.
Ruger 10/22 Project Build
Since I was going to be modifying a Ruger 10/22 I wanted the cheapest Stainless Steel model I could find. I was going to wait for the Guncity Father's Day sale to come up to grab a cheap stock Ruger 10/22 Stainless.
Ruger 10/22 Receiver, Bolt and Trigger

But with the launch of 55Six (note they have since closed their door and no longer offer any of these products). I ended up getting a Brownells BRN-22 Stripped Railed Receiver, the Ruger 10/22 Receiver Parts Kit and the Ruger 10/22 BX trigger. This has turned the project into a complete build. The only parts that are stock Ruger are the bolt and magazine. The Ruger BX-Trigger is a nice upgrade on the stock trigger for the money.
Ruger 10/22 Barrel
To have a functioning rifle I need a barrel. As with everything I have thought very hard about which barrel to fit.
The guys at 55Six have import permits for quite a few aftermarket supplies of 10/22 gear. These include Kidd Innovative Design, Feddersen and Tactical Solutions. Reading heaps of reviews and forum posts it appears that you cannot go past either the Kidd or TacSol.
I narrowed my search down to the Tactical Solutions X-Ring™ .22LR Threaded Barrel, the Kidd Ultra Lightweight Fluted Barrel, and the Ranger Carbon Tension Barrel.
The appeal about all these barrels is the relatively short length, the very low weight and that they are threaded ready for a suppressor.
I leant towards the Kidd Ultra Lightweight but 55Six had issues getting a price from Kidd. They did have a shipment of Tactical Solutions barrels arriving.
Making the Decision
Looking at the Ranger and TacSol barrels, it is a hard choice. I liked the idea of the short barrel on the Ranger. Reading up and talking to a few guys having only a 12″ barrel shouldn't affect the velocity and accuracy of the 10/22.
The 3 shot groups that are shown on the Guncity website for these barrels and above these show the MOA to be around 0.66 (0.2 mil). In my opinion that is very good. My main concern is the lack of reviews around.
I ended up choosing the Ranger barrel. It is available now I like how short the actual barrel is and can put on a different suppressor to keep that length down. Talking with Evan he did this post of a 22 that he put over the chronograph as he shortened the barrel. The drop in velocity was minimal and no loss in accuracy that he could see.
Gun City sold me with the following sales pitch from Chloe.
Suppressor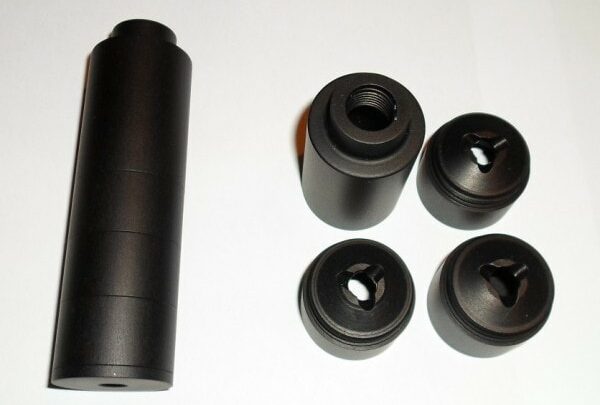 I am going to borrow a mate's DPT 22lr suppressor to test and compare with the one fitted to the Ranger barrel.
The reason I am also looking at using the DPT is that they are modular. If running sub-sonic loads you can use one baffle for a total length of 72 mm and a weight of 48 grams. Even when using the full suppressor for super-sonic loads the total length is only 106 mm and weighs 70 grams. Can even add more modules to use in a .17 HMR or .22 MAG.
Ruger 10/22 Must-Haves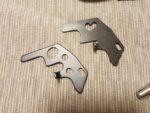 My must-have upgrades are a bolt buffer to help reduce any noise. The auto bolt release makes releasing the bolt more simple with just a quick pull.
With some modification to the original bolt lock mechanism, an auto bolt release can be made. I went with an aftermarket one so if I need to I can easily roll back. Since Gun City did not have any in stock I found a store on allgoods.co.nz (which no longer exists) that had them for a reasonable price. He also had the Kidd Bolt Buffer which is a stainless steel pin covered in a polymer.
Ruger 10/22 Stock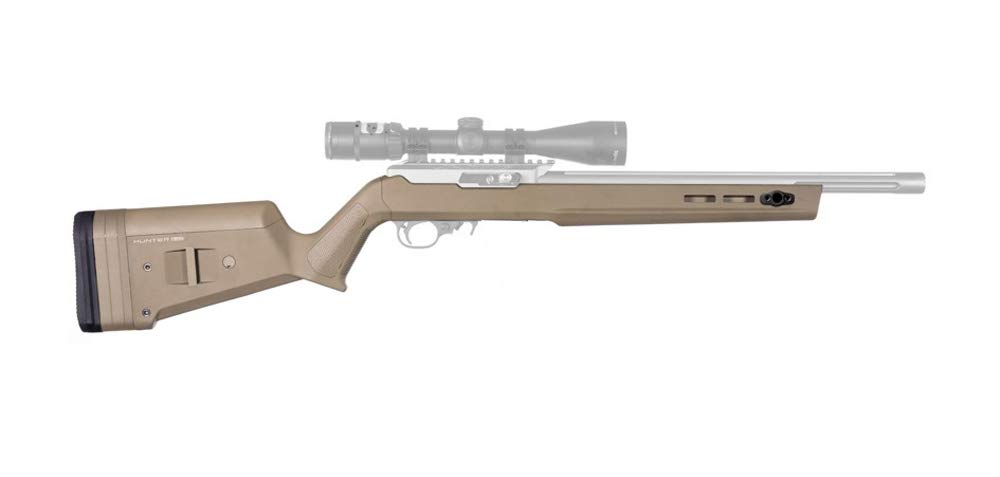 After a lot of research, I decided on a Magpul Hunter X-22 stock.
A great thing about this stock is being able to easily change the length of pull and add check risers for using a scope. Using the M-LOK system it will be easy to add accessories, like a bipod and sling
I am very impressed with this stock, it is a major upgrade on the factory stock. It feels nicely balanced and with the cheek risers that will add to the Ruger 10/22 feeling how it should. The stock is available in a range of colours but I like the Flat Dark Earth (FDE).