On the 19th of June, the Hutt Valley Clay Target Club held their Club Championships for the following disciplines
50 Compak
25 ISSF Skeet
25 Trench
25 Ball Trap
Compak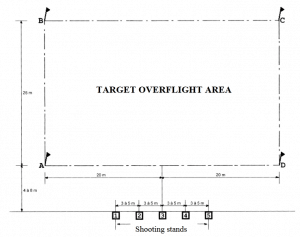 Thankfully we started with the Compak and I had a ripper of a start shooting 23 out of 25 for the first field. I was a bit annoyed at missing my last two singles. The second field did not go as well as my first with me struggling to get any rhythm and only shooting 16, giving me a total of 39 out of the 50. Interesting everyone I spoke to thought the first field was harder, the targets were more on the limit of the target area.
While waiting for the 25 Trench to start I called up for a Shoot-Off for 3rd B Grade, it was held on the field I struggled with and again struggled to get to grips with the targets. I was either stopping my gun or shooting over the top. Ending up 4th B Grade wasn't too bad but definitely, have room to improve before the Nationals in November. I found that my score of 78% is very close to being an AA Grade score of 80% + and well above the B Grade of 60 – 70.9%.
There are a few more practice weekends coming up at the club I will have to get along to.
ISSF Skeet & Ball Trap
I also had a go at ISSF Skeet (Olympic Grade) and the Ball Trap. This was not very good at these getting 10 and 11 out of the 25 retrospectively. I was underpowered with my half choke for the Ball Trap. I was only just breaking them, everyone else was using Full or Extra Full. In the ISSF Skeet, I just wasn't fast enough especially as the gun has to be started a lot lower than sporting with it touching your hip.
It was getting late in the day so I did not end up shooting the Trench. But the way I went in the other trap even I do not think I am missing out.
Until Next Time
Parriehunter