Well, duck hunting opening 2016 week has come and gone. I am on call for the upcoming weekend so I thought it a good time for an update.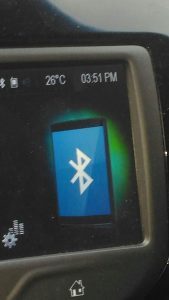 It was another great week down south, even if it was really warm, calm and clear skies. Driving back north it peaked at 27°C. I wasn't quite quick enough to get a photo of that but the photo to the right shows it being 26°C.
Friday
Friday called for us to finish putting Tea Tree on the hides, I know while not ideal but with almost all of us coming from out-of-town and half of us from either the North Island or Australia, it makes it easier to do. The birds were very contended in the fog to stay on the pond while we did this work.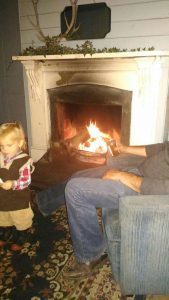 The Friday evening saw the 2nd Annual Duck Hunters Dinner at the local hall. This was another great event even if I did have a sense of humour failure over the "Protesters" coming. It hit a bit close to home to some of the crap I have had to put up with in Wellington.
I must say thanks to Hunting and Fishing Kaikoura for sponsoring the event and putting up an Electronic Caller for the event, which with my dismal calling display I won. I am sure it will see a bit of use over the Lake Wairarapa on the Geese that frequent there.
It was a potluck of game meat, with Venison, Goat, Goose, Paradise Duck and Mallard on the menu. Every dish was absolutely divine.
Saturday

The Saturday morning started very well with both Dad and I kicking things off with 4 from 4. The morning continued with the ones we could get to commit generally not getting away.
As the day played out the sun strike was some of the worst we have experienced at the pond, and as pointed out this was the latest into to May the season could have started and this may have had some effect with the sun being just that much lower in the sky.
I did learn that the dark glasses I brought last year are not very good with the prescription as when mounting the gun it was like looking through a wide-angle lens with everything having a curve to it. I had to put my normal glasses on again to see the birds properly.
Sunday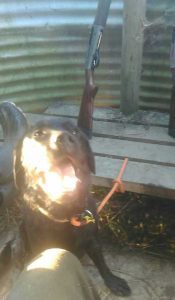 With Sunday being a little more slow pace I brought my young pup Ace out for his first real feel for duck hunting mid-morning. I am absolutely stoked in how he has gone. He soon got used to the sound of the shotgun, I had used sound effects on my phone to get him to use to it and when Guy Fawkes was on I made sure that he had a positive experience with them.
After the other dogs had been through to retrieve the ducks there were a few left floating on the pond, with my Dads help we got him to retrieve all four that we could see. A little trick that Dad showed me was if he looked like he was going to start playing with them, just jog away from him a little and he will follow, which he did and gave the bird right to my hand.
While walking around the pond a mallard was shot at ~70 metres from where were. He marked it and almost swam all the way to it except for getting caught in the ripple cord running through the middle of the pond. Once he got free he honed in on it again and retrieved the bird back to the main hide. For me, it was impressive to watch, and has given me great pride and has added another dimension to my Duck Hunting.
While standing around the main hide a pair of Paradise Ducks were shot, I was able to get him to swim out and retrieve one and then go back for the other bird. It was almost text-book perfect training for him.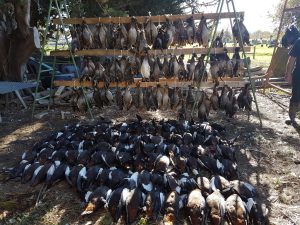 Sunday night while I didn't shoot any birds he brought back two drakes and a parry from that morning without any encouragement required from us. At the end we went looking for a Pukeko, he found and retrieved another mallard.
It is very nice to know that the time I have spent with him is paying off. A long way to go, but we are going in the right direction. Especially with him retrieving not only warm birds but also cold birds and bringing back both Mallards and Paradise Ducks.
The shooting on the pond was very successful especially considering the very nice weather we met. Off the pond, we ended up with 330 Mallards and Paradise Ducks with about two-thirds of them being Mallards. Also, 5 Geese that we got stalking the pond.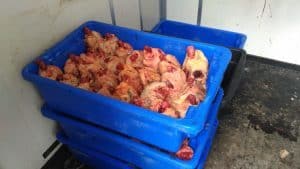 Some of you might be asking what we end up doing with all these birds, I can happily say that they were all processed in one way or another with the Mallards being Plucked and Gutted with a small few who were to badly shoot up breasted and legged.
The Paradise Ducks had the breast meat taken off and put in the chiller. These will go into making sausages and salamis.
Monday Goose Hunt
After shooting the pond over the weekend, we had a permit to hunt one of the local lagoons for a Goose Cull.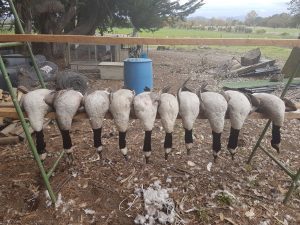 We ended up going on scout trying to find where else they were holing up. This lead us to one of the big irrigation ponds and one of the few surviving places with water in the area. Upon arrival, we spotted the birds on a hill behind the pond.
A couple of the boys started a long walk to try to get behind the birds to see if they could push them over us. While we were waiting we thought we could get into a better position right underneath them. It was the right call just as we got there the birds came over us, they were still reasonably high at about 30 metres. Between the three of us, we were able to get ten.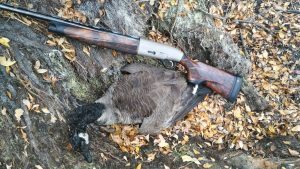 A reconnaissance to the river also found another 200 Geese camping there plus 170 sitting on the Lagoon. This looking like a good hunt was coming. But as with Geese, that hardly ever works out as expected. At the Lagoon, we ended up with a couple of flights coming through and another 34 Geese shot making our total 49. The boys on the river had a hard time with only 4 Geese.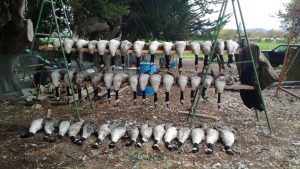 That ended my time down south but not the end of my hunting holiday.
Hunting the Wairarapa
Thursday afternoon I headed over to Lake Wairarapa to scout some birds to hunt Friday morning.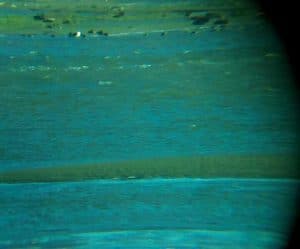 The picture does not really show how windy it was over there. It was causing water spouts all over and yet the birds were hunkering down in the middle. I did find some birds and I planned to come back over in the morning with the lay-down blind.
I awoke early Friday morning to some of the roughest weather we have had at home. A quick check online found that the road over to the Wairarapa was closed. Trees down and power outages all over Wellington and the Wairarapa. With all that I thought better than trying to get over there and getting stuck or in trouble.
Second Saturday
I had organised with Justin to head over on the Saturday with him and catching up with some contacts he had made to see the southern side of the lake.
We didn't get off to the best start with Justin running a bit late to get to my place. Then after a dash over the hill neither of us really knew were we were going so needed up being about 45 minutes late. But after some quick introductions, we sat on the edge of the lake to see what would happen. A few birds were flying around but not really coming within shotgun range. One bird was taken and I missed an opportunity by looking the wrong way.
After sitting around we went for a walk stalking some of the ponds scattered around the area. There were some very nice ponds and hides set up. I took one swan and lost one duck but it was a very good walk to see what is in the area. We found some very suitable spots for a night shoot.
Hopefully next weekend the weather will be rough and I can get out for a few hunts.
Parriehunter