We are getting very close to the opening of the Duck Hunting season. Last weekend there was The Gun Shop sponsored duck shooters shoot again at the Upper Hutt Clay Target Club.
It was a good shoot again apart from some issues with a few traps in our morning start it went well. I had a great first round shooting 46 out of 50 and 2 clays behind the leader. Through the middle of the second round on one stand, I dropped 6 clays out of the 8. Ending up on 40 out of 50 for that round still a reasonable score giving me a total of 86.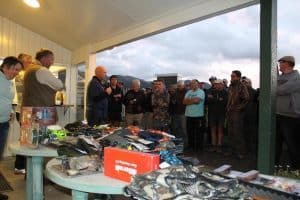 I must say thanks to The Gun Shop for the sponsorship they had almost $4000 worth of gear on the prize table. With a record 159 shooters turning up almost everyone got a prize. No surprise that I was one of the unlucky few not to win anything but that is the way it goes.
I am just finishing up some packing while Dad and Cameron are driving down for our sailing this afternoon, down to my In-Laws for what will a great weekend away.
Happy hunting and stay safe out there everyone, and my next post should hopefully include a few birds.
Parriehunter