Well, I got a very good deal on a DEVO 7E from Banggood and after reading that with a simple module hack I could control the Hubsan board.
DEVO 7E build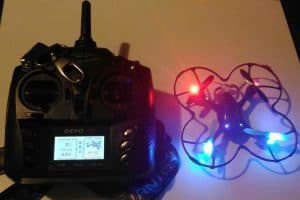 Using these instructions I was easily able to add the A7105 module. The next step was installing Deviation Tx firmware to allow the usage of the Hubsan protocol. The installation details using the online manual were relatively straightforward except that on the Downloads page there are two files for each transmitter and at first, I tried using the deviation-emu file not seeing the one further down. This file is an emulator and does not have the real firmware in it. Once I realised this mistake the installation only took 5 minutes.
Binding the X4
Getting the X4 to bind to the Transmitter was easy with only having to go into the model set-up and selecting the correct Protocol. It just worked, and the default setting is already a step up on the stock Tx. I am able to control the X4 with better precision than the stock transmitter.
On the deviationtx.com forum, I was able to find a couple of model configurations others have used. From there I have modified it to show and do what I want.
Custom LCD Screen
Having the LCD is great and can show exactly what is happening including the battery voltage on the X4 that was a very pleasant surprise.

The two screens to the left show the different modes, The three icons in the middle toggle on and off. The top one shows is the Tx inhibit is on (HOLD switch). The middle is full rates enabled (FMOD switch). The bottom is the lights on using the throttle trim as the switch.
The other displays include the Tx voltage and power, throttle percentage, a 5-minute countdown timer and the X4 battery voltage. Between the vertical trim bars, it shows the toggle icons. On the right is the model icon, a timer that counts up based on the throttle for this session and a lifetime counter at the bottom.
The am sure there will be more mods coming for this Radio especially as I see Banggood are releasing a very cheap copy (by Eachine) of the Blade Inductrix which uses DSM as the protocol and to get better range do the diode mod. At the same time, I will have to add some extra switches and put in a couple of swivel antennas for the installed modules which should also help increase the range.