Hi there.
I'm Justin.
I've been a keen hunter and angler since I was 12 years old. Having shot my first Springbok back in 1995. Now that I've moved to New Zealand with my wife, I'm keen to get back into the outdoors lifestyle. Hunting, fishing and most importantly cooking what you've taken.
Gareth asked me if I wanted to contribute to his blog after our jaunt in the Wairarapa to do some trout fishing.
I've never gone freshwater fishing before, but it would appear from what Gareth and other anglers told me I've got what it takes.
I wouldn't consider myself an old sea dog, but I am a capable saltwater fisherman. Breaking into freshwater fishing is new territory for me. The first thing I instantly noticed was that I didn't smell like fish within the first five minutes of an outing. That and the fact that I wasn't getting snagged on rocks constantly.
I've got a lot of learning to do, but I with Gareth's help I'm sure I can get back into hunting and fishing.
Gareth, lent me his gear for when we went fishing. So now I've got to go and buy my own. Might make an interesting video… hmmm.
Anyway, just wanted to say hi and hope to be adding more content to Parriehunter.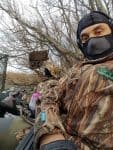 Justin