With the 2015 Duck Hunting Season finished for me, I thought this would be a great time to reflect on the season past.
Season 2015
Opening Weekend
The season started out great with a trip down to my Father-In-Laws place again. He had put in the hard work of feeding the place and having it house 700+ birds on Friday before. We got the main maimai (hide) all brushed up and looking good.
My YouTube video sums up the weekend pretty nicely so I will again let it do the talking.
Mid-Season Hunt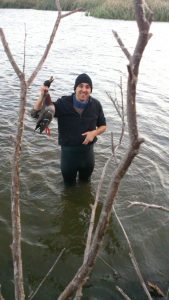 Midway through our 6 week season in Wellington, the weather was looking good with a strong Southerly and squally showers forecast and even better, I was not on call.
It was arranged with Justin and we headed over the hill to try our luck. As it turned out it was a great morning with my limit by 8 am, being home and ducks cleaned by midday.
This was one of the most enjoyable hunts I have had,  having a plan and finally, it all comes together to have a great morning with a great mate.
Final Hunt
The weekend just gone was my last opportunity to get out and try to hunt some duck. Unfortunately, the weather did not play ball with Saturday and Sunday being very calm days.
We headed out Sunday and while there were brief periods of some wind the ducks were not interested in being where we up at Boggy Pond. There were some Swan sitting further in the middle and the ducks just wanted to land there. Finally at about 10 am I was able to pull three past well within range but of course, I was so amped up after waiting since pre-dawn that I missed them.
We packed up not long after and walked back to the truck and of course, there were the ducks sitting about 200m away. They knew they were safe, there was no way to be able to stalk up to them. That is duck hunting for you.
After that walked around to see if we could jump any ducks there and find some more hides. We were able to find a few more but with only one of us having waders. It a bit hard to get right round to try and find them all.
Parriehunter