Birthday and Babymoon Weekend Away
Posted On November 9, 2016
The wife and I decided since I was working Labour weekend for us to take a long weekend the following weekend. To get away as a Babymoon and for my Birthday.
We ended up staying at a BnB in Greytown. Not too far from home but far enough to feel like a weekend away.
Fishing
While over there I had planned on trying for some fish. The weather did not play ball that much with it raining the first few days. Which caused the rivers to get high but I gave it a go anyway. The first stop was just North of Greytown to the Waiohine River off Kuratawhiti Street. The river did have a bit of flow gave the fly rod a try for an hour or so. By the end, I was able to get the fly to land pretty softly when I wasn't contesting the wind.
After that, I headed to the Ruamahanga River at Foreman Jury Road to try. Again I was not successful but found a lovely spot to go to and will definitely head back there to try again when the rivers are not as high.
We pottered around Greytown with Jenna going for a massage while I was fishing and doing a bit of shopping.
Castlepoint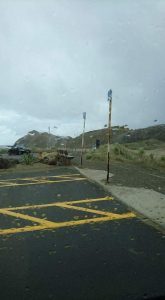 For my birthday we planned to go to Castlepoint and spend the day over there but when we arrived it was raining so we waited for that to pass where Jenna got this snap of the Lighthouse.
That turned out to pretty much as close as we were going to get. While walking along the beach Jenna rolled her ankle on some uneven sand. She went face down straight onto her pregnant belly. A call to the midwife who advised that babies are strong and well protected. But we should go to Masterton Hospital for a check-up. She made a call and let the hospital know to expect us.
I must say it was nervous times driving to the hospital but it was a good run there with very little traffic. At the hospital, it was great to hear the baby's heartbeat. Then it was a 4-hour wait while Jenna was strapped to a monitoring device to check nothing was wrong. The good news is that Baby is all OK, Jenna is a bit sore still from the fall.
On our way home we stopped at Kourarau Dam as I had previously been told it was worth a look by a local, and I am happy we did even just for the bird life.
Had a fish strike but unable to hook it up but they were there so I will definitely be heading back there.

Here is a map of where I went fishing.
It was all in all a good weekend away.
Until Next Time
Parriehunter